For most, finding your soulmate takes time, but not for Gabby and Joel. They fell in love as just mere high school teenagers and couldn't imagine doing life with anyone else. Still in their early twenties, the couple have already achieved so much together. They have built a house, learnt to snowboard and traveled the globe, but there was still one thing left to do………..Stand as one on their favourite beach and proclaim their love to one another in front of their closest friends and family.
This was to be our first time in Dunsborough, we had heard many stories of its beauty and charm. We were not to be disappointed. We arrived at our Airbnb quite late, but were still welcomed by our affable host Madhu. Once settled into our gorgeous double story Chalet, Madhu asked if we would like to partake in some meditation. We obliged, getting your Jedi on before a shoot is highly recommended. Now feeling relaxed (I could no longer feel my legs, that means my legs were relaxed right?) we indulged in some tea and hit the hay, ready to shoot the wedding.
We woke up the next morning to discover the true beauty of our surroundings. nestled in on all sides by nature and the owners very own tranquil gardens of Zen.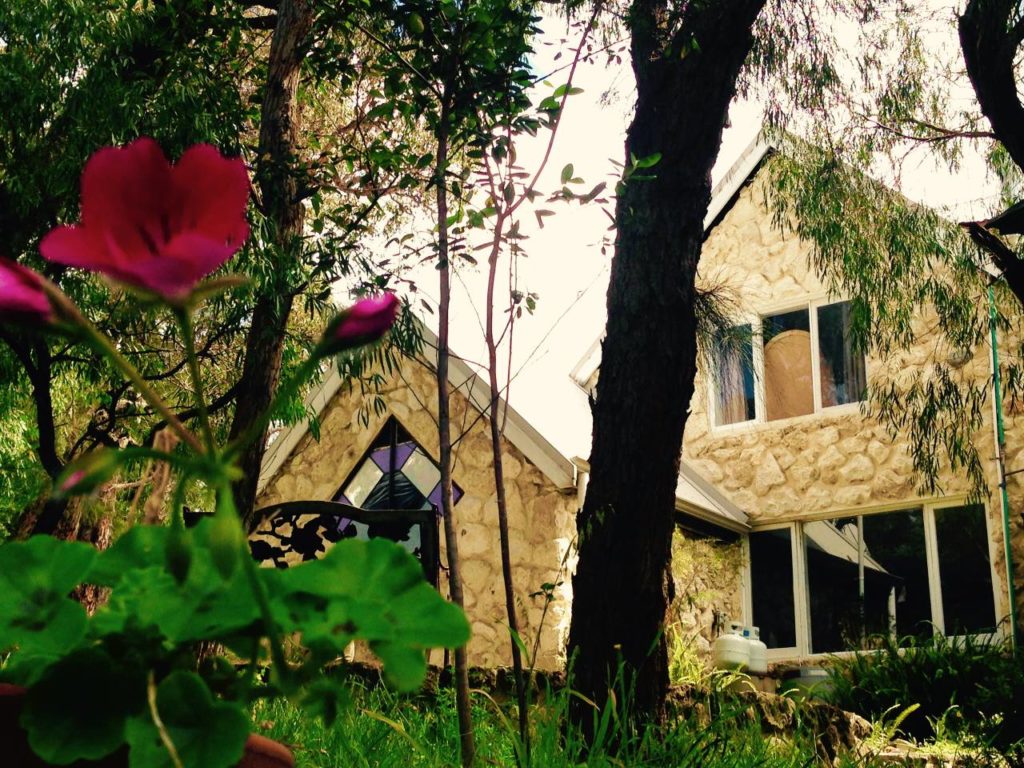 We were once again greeted by Madhu and the all too familiar voice of Bob Marley echoing through his kitchen window. I was beginning to understand why everyone was so chill around here 😉 Our host suggested a walk through the forest via one of the trails. I'm glad we took it, it was a great way to kill of our pre shoot jitters and the view at the end of the trail was spectacular. a 180 degree view of the peninsula (unfortunately i didn't bring my camera on the walk, but hey! go and check it out for yourself). We can't thank Madhu enough for his spectacular hospitality. If you're reading this mate, we will be back!
Before the ceremony Gabby and Joel read their beautiful notes from one another. When I edited their final feature I decided to build around those moments as they were so raw and emotional. It was hard to edit this section without getting tears on my keyboard. I haven't wept this much since i witnessed Rose let go of Jack in the brilliant film "Titanic". I don't care what anyone says, there was enough room for both of them on that door! If you're reading this Rose, you're a selfish bitch!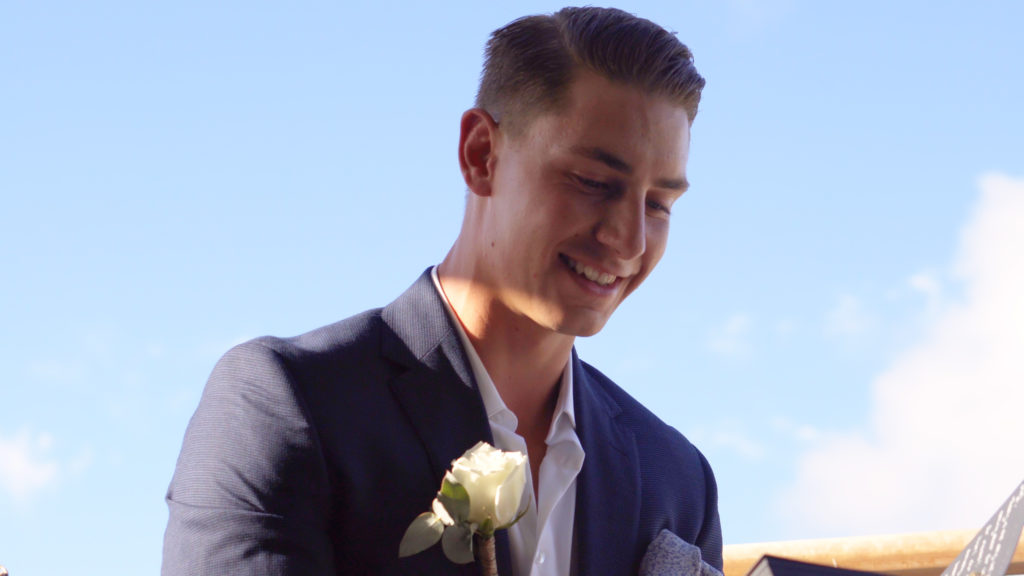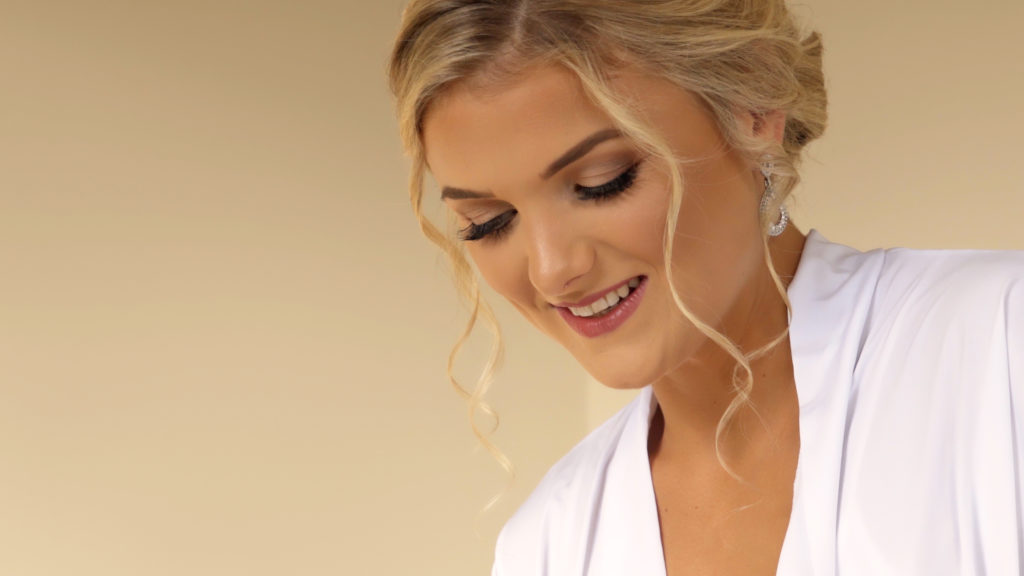 Joel and Gabrielle then exchanged vows on the alluring Bunker Bay Beach. The couples hand written words from the heart are some of the best I've ever heard at any wedding. It was difficult to pick out my favourite parts for the edit as they were just so good. here are a few of the words from the vow exchange that didn't make the final film.
Joel to Gabby "It seems like only yesterday that i saw you for the first time and instantly fell for you. with your gorgeous hazel brown eyes, your short blonde hair, your giggly laugh and that perfect smile. A smile that can instantly turn anyone's bad day into a better one"
Gabby to Joel "I promise to love you unconditionally for as long as we live. Wherever we go, as long as i am with you I'm home. You really do make my heart happy and i want nothing more than to grow old with you"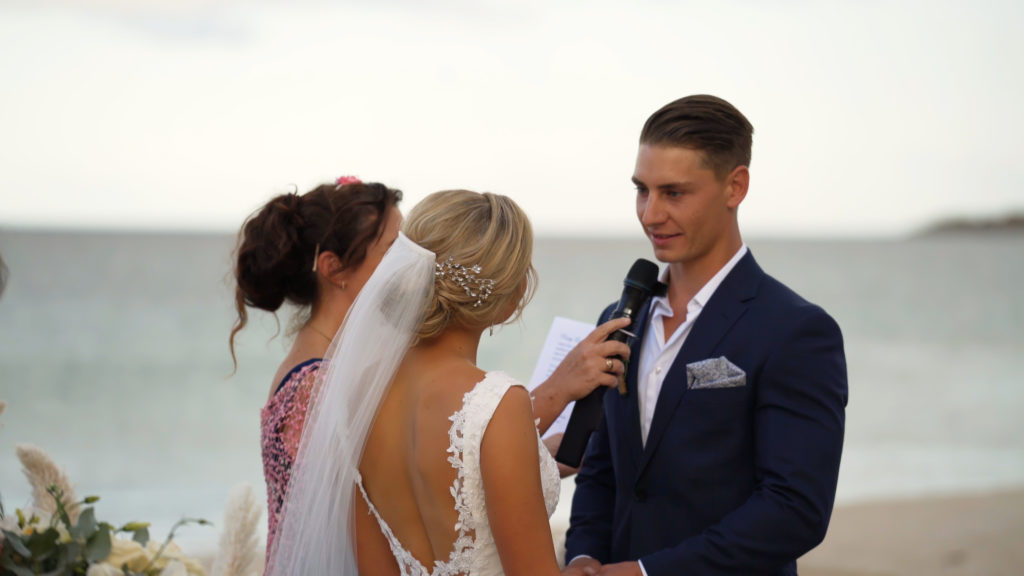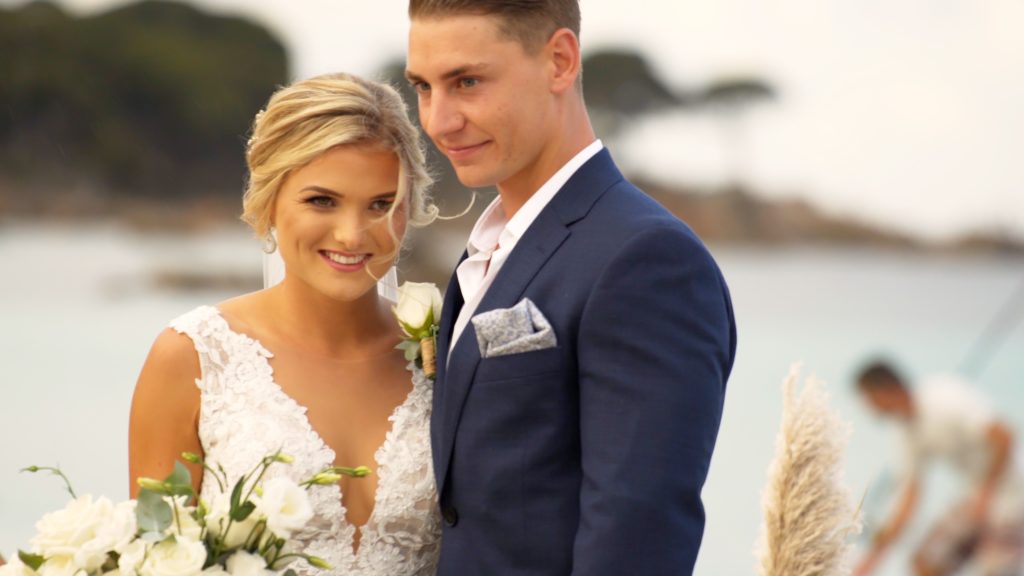 Shortly after the ceremony, we took the couple to Sugar Loaf Rock for some golden hour magic! This is a spot I hope to return to in the near future. I could have easily spent hours shooting at this resplendent location. The wind picked up and resulted in some epic slow motion (see the film!) Anyone visiting Dunsborough needs to check out this absolute gem for themselves, but just watch out for the pot holes!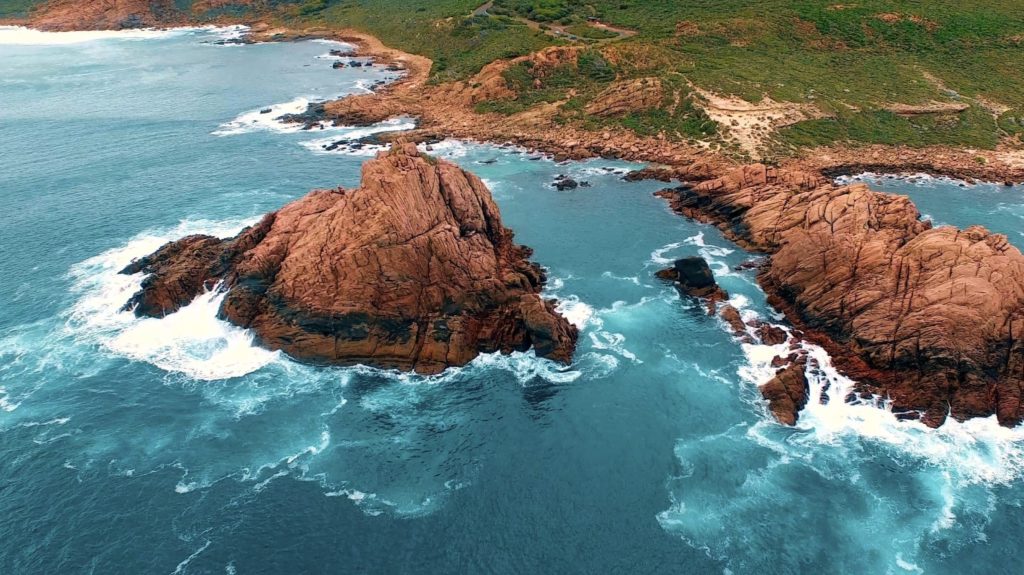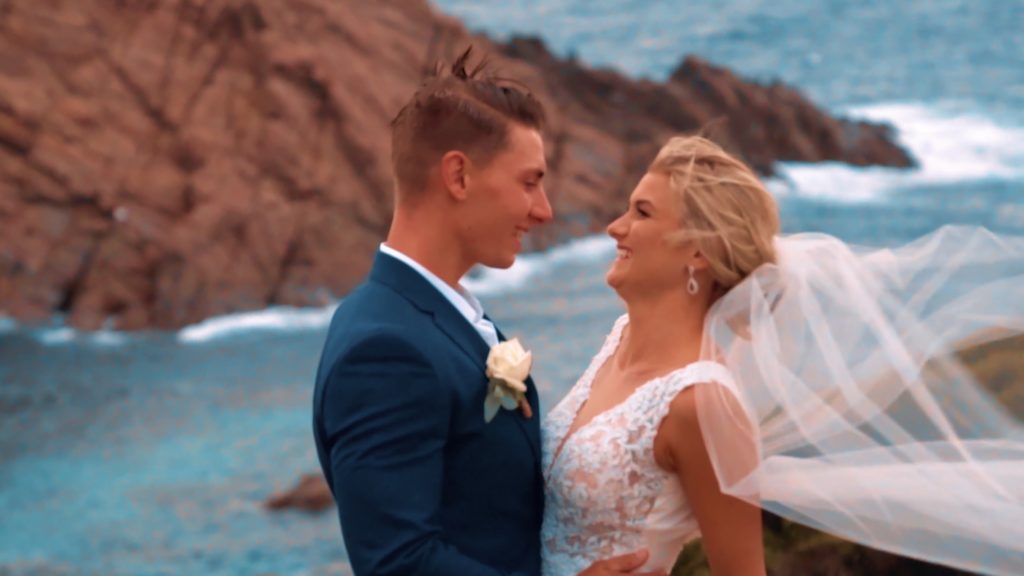 The reception was hosted just a hop, skip and a jump away from the beach at the splendid "Bunkers Beach House". Gabby and Joel gave their guests an entrance to remember as they jumped straight into their first dance, a choreographed number which they had both clearly worked hard on in the months leading up to this special day.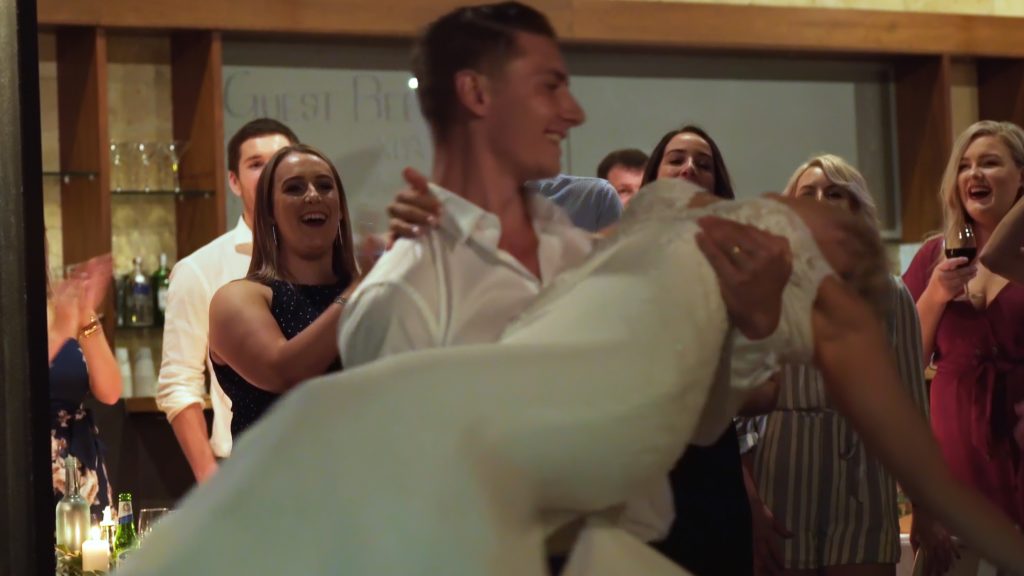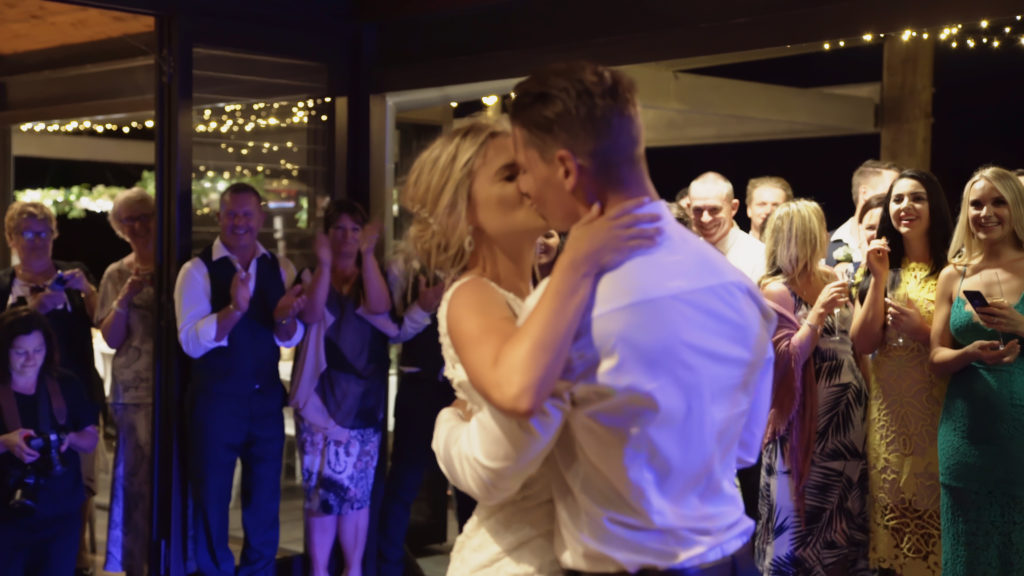 I wish i had those skills, below is a photo of me from many years ago, moments before i dropped my friend Dee on her head, while attempting to replicate similar acrobatics that Joel effortlessly accomplished.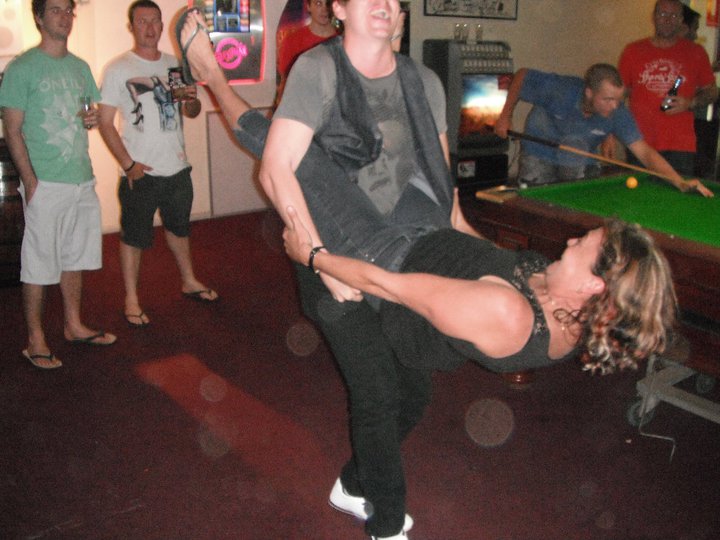 Not long after the first dance/ Cirque du Soleil, some family and friends took centre stage to read their speeches. Everyone who took to the microphone had something beautiful to say about these 2 amazing people, which gave me a further headache in the editing booth as there was just too much gold to choose from! (not a bad headache to deal with though) below are some of our favourite snippets from each speech.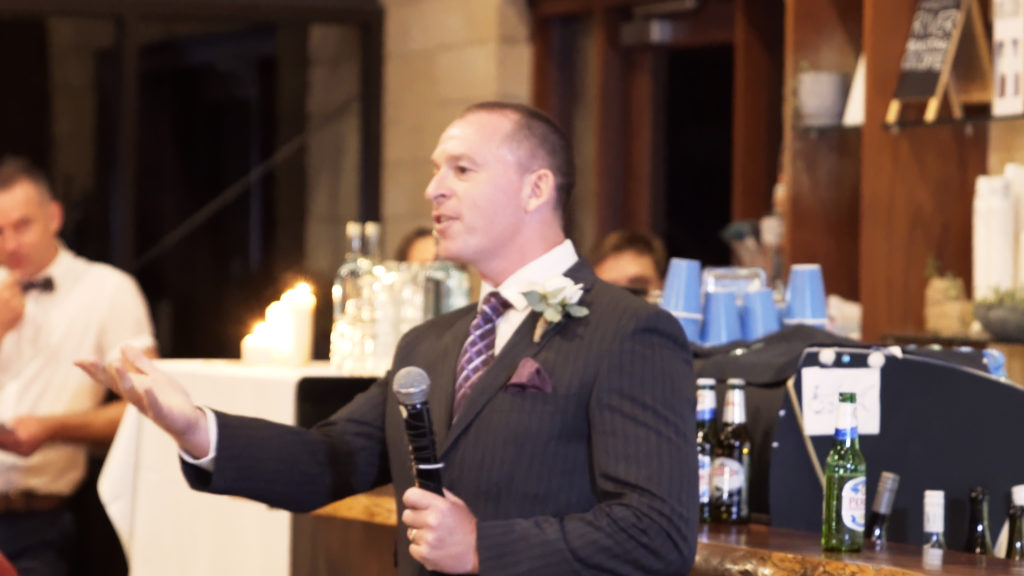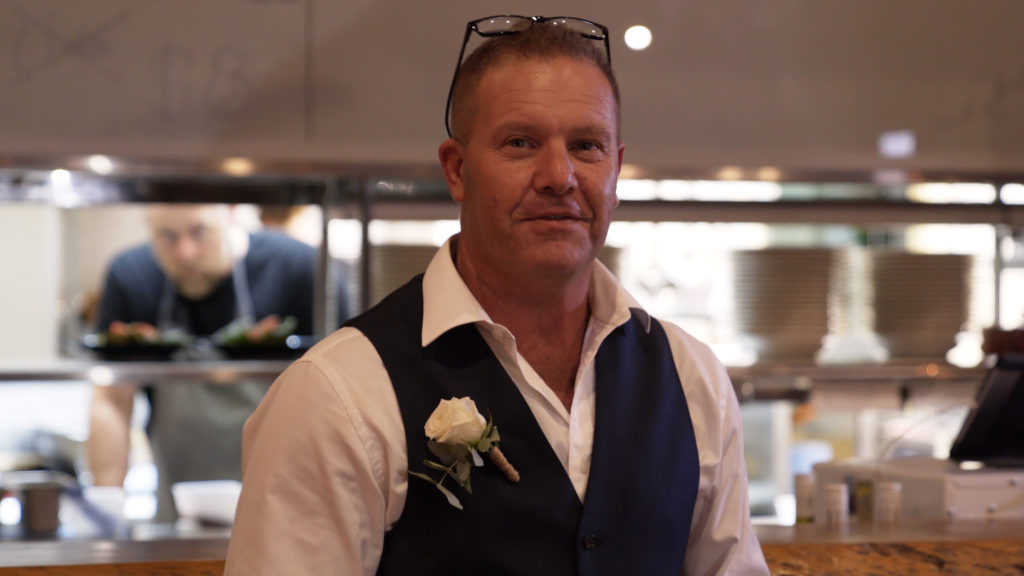 Gabrielle's Sister Siobhan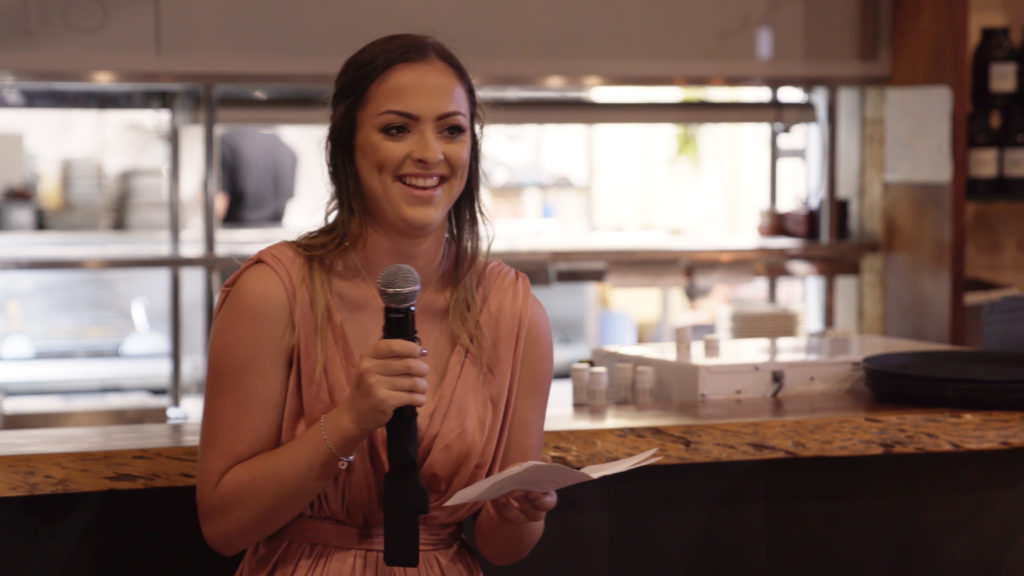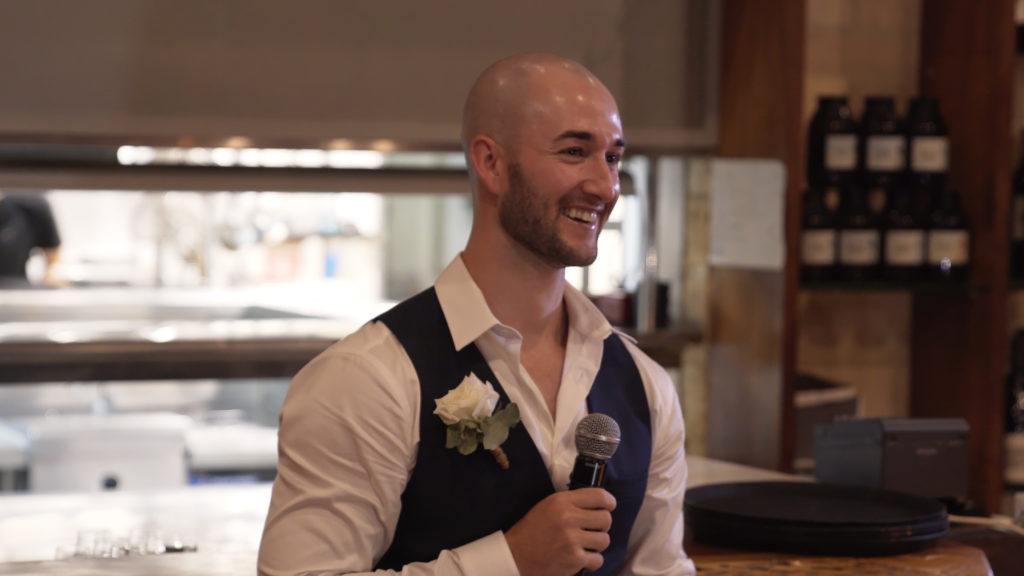 With all the formalities now complete, the party really started. Boy oh boy did the dance floor go off, I can't remember a time when it was empty!! We got all amongst it with our cameras. I've found the best way to film dancing is to get on ya dancing shoes yourself!!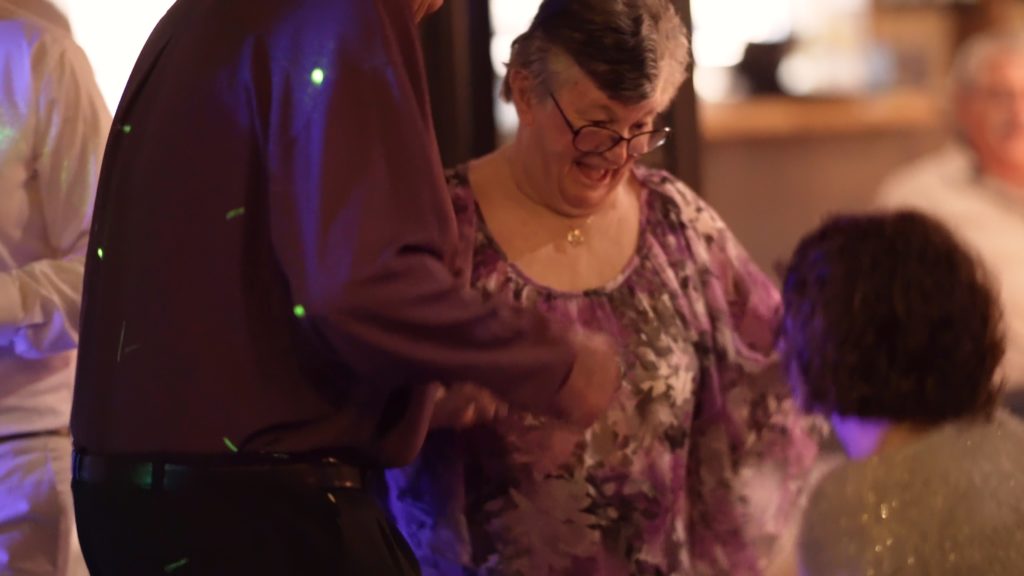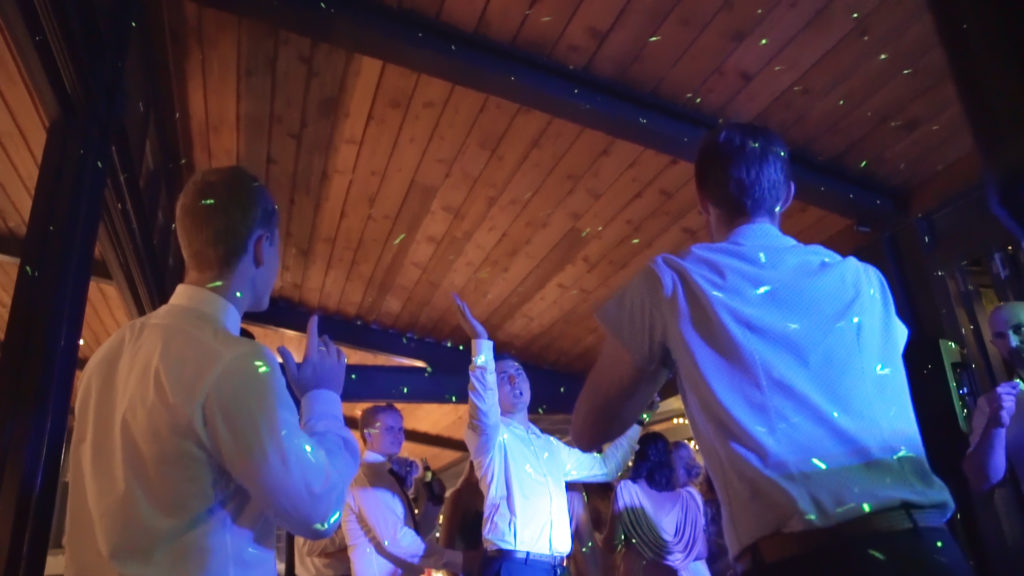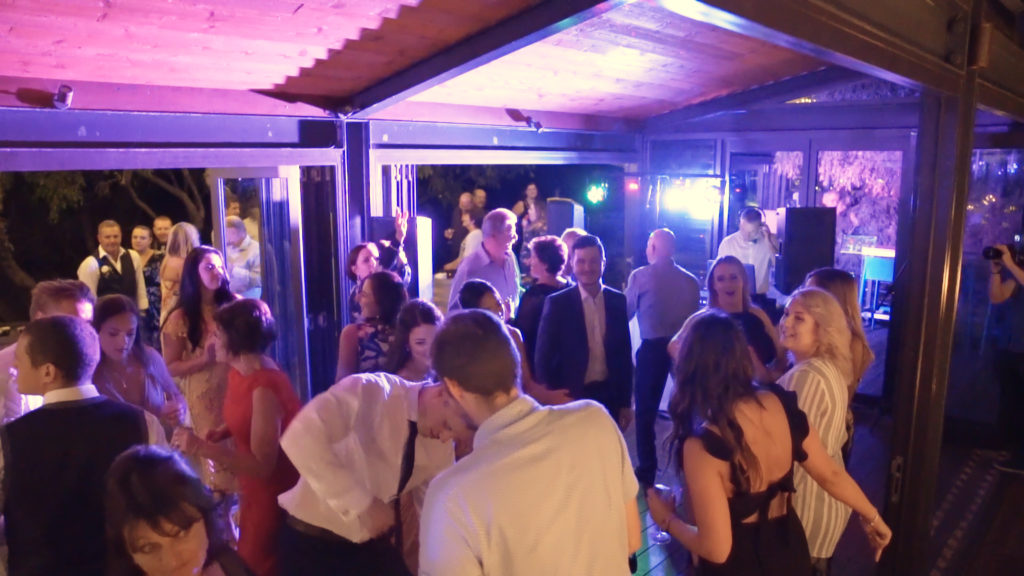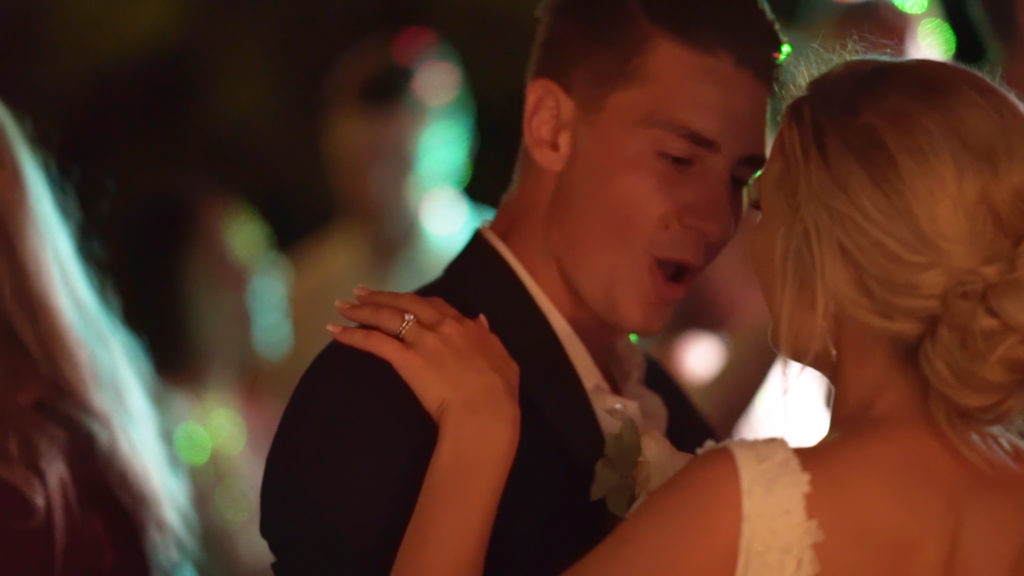 As the night came to a close, the couple were engulfed in many loving hugs and kisses. Before they left, Gabby prepared to throw the bouquet. It resulted in a hilarious moment that is too good not to share and rounded the night off nicely.
Note: This clip was shot in slow motion, therefore the audio has also been slowed down. That's not cows you're hearing in the background, although it probably is cow country. anyway i believe it adds to the comedic value, enjoy.
We believe this film captures the love and energy surrounding this amazing couple. It was an absolute honour and a privilege to share in their big day. Joel and Gabrielle, you are nothing short of awesome. We wish you all the love and happiness in the world.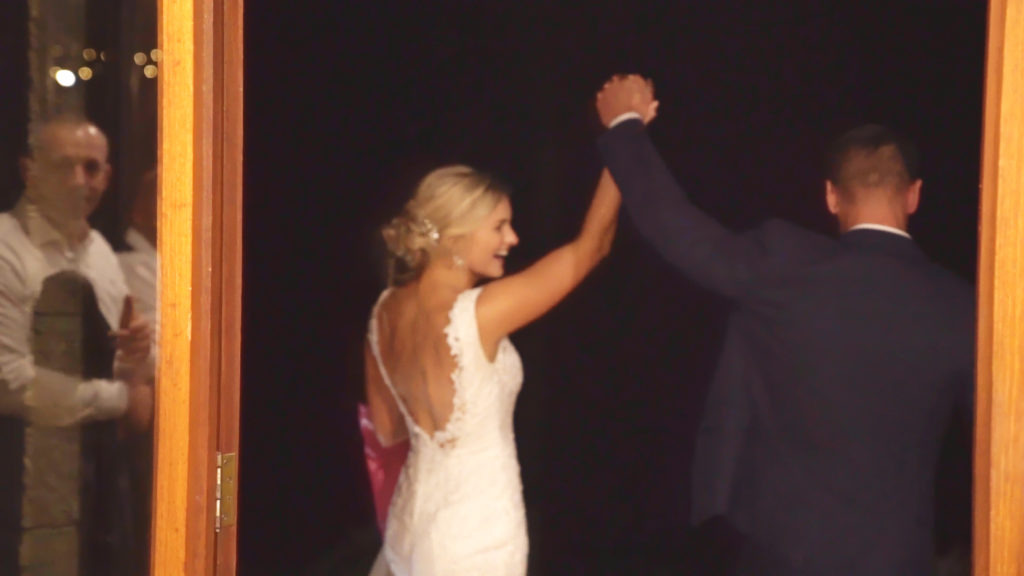 Getting married in Dunsborough or anywhere else? We would love to film it! Please get in touch.